World Book Day
St Mary's and St Helen's Virtual World Book Day 2021
Thursday 4th March 2021
We are really excited to be holding our first ever virtual 'World Book Day' this year and have lots of exciting activities and ideas for you to do during the day. On top of that, we have a 'virtual library' which we've put together with loads of different stories read by our staff for you to choose from. We have a virtual author visit from Duncan Beedie, a KS1 and KS2 assembly and the chance to dress up as a favourite book character! Read on to find out more. A big thank-you to our Reading leaders from both schools (Mrs Jones and Mrs Silverthorn from St Mary's and Mrs Kossmann and Miss Adams from St Helen's) for planning all of the activities.
Timetable for the day (Zoom codes will be e-mailed out):
Class check-ins with your teacher as normal
KS1 Assembly (9:45am)
KS2 Assembly (10:10am)
Live Author Session on Zoom (1:30pm)
Class check-outs with your teacher as normal
Partnership Virtual Library
Our staff have created a partnership virtual library. Click on the photo below to take you to the stories. Click on the story that you want to listen to and you'll be taken to a video of that story being read by a member of staff from St Mary's or St Helen's.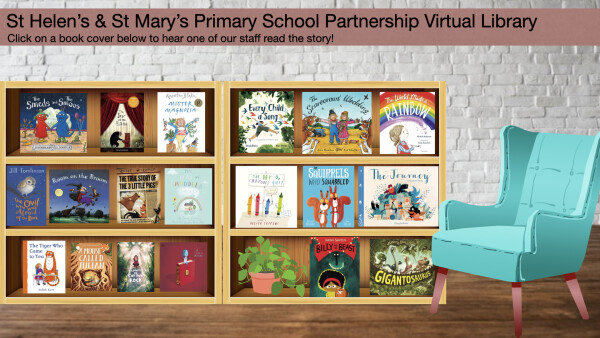 10 World Book Day ideas
During the day, take part in as many of the activities from the table below as you like. We'd love to see how you get on, so please share your learning/creations with your class teacher on Dojo or Tapestry. 
Create a potato character: 
Children can have fun dressing up a potato as a character from a book. You may like to use fabric, paper, recycling bits and bobs. If you don't have any potatoes in the house you could use eggs. Just make sure the eggs are hard boiled before using to avoid any eggy disasters!

Create a scene from a book:
Create a scene from a book inside a small cardboard box using paper, paint and any other materials you may have at home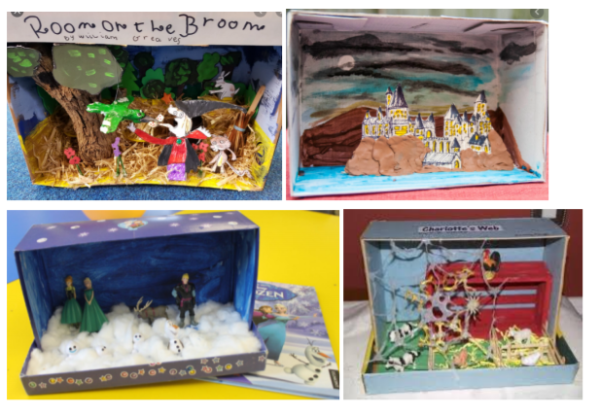 Book Cover competition:
Design an alternative cover for a favourite book competition. Choose your favourite book and look at the front cover. If you were the author/illustrator how would you design it differently? Complete your design and upload to Class Dojo. There will be prizes!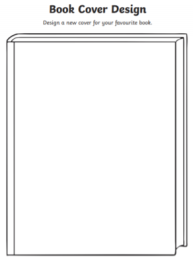 Design and make your own book marks:
Click here for inspiration: https://www.worldbookday.com/resource/meet-the-bookmarks-primary-pull-out/
Visit the World Book Day Site below and attend one of the live events:
https://www.worldbookday.com/events/

Wednesday 3rd March, 10.30am – Books that Make you LOL! 7+
Starring: Humza Arshad, Alex Bellos & Ben Lyttleton (Football School), Jonny Duddle and Zanib Mian
Hosted by Kenny Baraka, motivational speaker
Thursday 4th March, 10.30am – World Book Day special – Bringing Reading to Life 4+
Starring: Joseph Coelho & Fiona Lumbers, Tom Fletcher and Lydia Monks
Hosted by Nigel Clarke, TV presenter
Friday 5th March, 10.30am  – Books and the Real World 9+
Starring: Sita Brahmachari, Jess French and Katherine Rundell
Hosted by Jessie Cave, actor and podcaster
Authorfy - 10 minute author challenge:
For a quick blast of creativity, complete a 10 minute challenge given by one of the authors on Authorfy!  
https://authorfy.com/10minutechallenges/
Choose an author you like the sound of and have a go at becoming a 10 minute author! We'd love to hear your creative pieces on Class Dojo!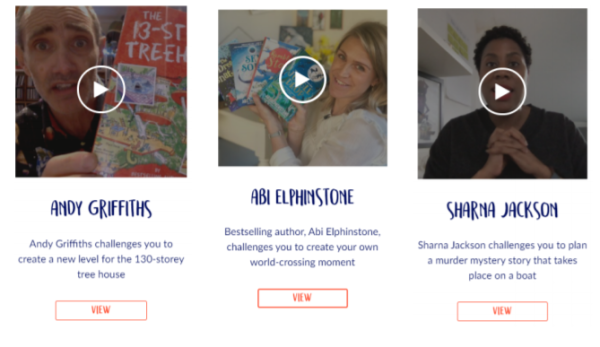 Book read aloud or drama:
What is your favourite book? Can you record a video of yourself either:
Reading a part of a favourite story

Acting out a scene from the book

'Hot-seating' interview with a book character from a story (get into the character and ask someone at home to ask you some questions, as if you are that character)
Create a game about books:
1. Why not create a board game?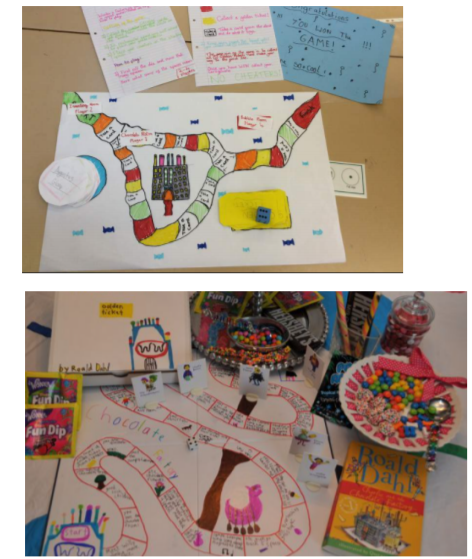 2. Or make 'Book Character Top Trumps'?
Book Quiz:
Fancy having a go at our book quiz? There's a KS1 and a KS2 version below:
KS1 Partnership World Book Day Quiz
Write a short story:
Got a story inside of you ready to burst out? One page.  One pen.  One imagination.  The floor is yours!  Write a one page story about anything you like.  You can be inspired by your favourite author and recreate one of their famous tales or write something completely new and fantastical!  
Make a snack/drink/cake/lunch based on an inspiration from a book:
Post a photo on Dojo/Tapestry! Here are some ideas you could make:
A huge chocolate tiffin tray with marshmallows and maltesers (Charlie and the Chocolate Factory by Roald Dahl)

Turkish Delight (The Lion, the Witch and the Wardrobe by C.S Lewis))

Ring donuts (Holes by Louis Sachar)

Bruce Bogtrotters Chocolate Cake (Matilda by Roald Dahl)

A finger food feast (Peter Pan by J M Barrie)

Afternoon Tea and Scones (Alice in Wonderland by Lewis Caroll) 

Pumpkin Pasties (Harry Potter and the Philosopher's Stone by J K Rowling)

Jerk Chicken (High Rise Mystery by Sharna Jackson)

Gingerbread (Hansel and Gretel)
Or you might come up with a book inspired food of your own! 
For any Roald Dahl lovers this has some fun activities to do!
https://www.worldbookday.com/wp-content/uploads/2019/11/RoaldDahl_ActivitySheet_WonderousWordsandDelumptiousDoodlesPack.pdf
Other Reception/KS1 activities:
There are lots of activities and resources linked to other specific books here:
https://www.worldbookday.com/resources/nursery/
for example: https://www.worldbookday.com/resource/charlie-lola-activity-pack/
https://www.worldbookday.com/resource/the-tiger-who-came-to-tea-activities/
where each story has activities such as colouring in sheets, simple crafts and word searches etc.